Sweden Car Transport AB
We at Sweden Car Transport AB offers customers a more personal and flexible service and all at a great price. Most of what you might like to know about us and our services can be found here on our website.
Environmental Responsibility
Man is totally dependent on the nature and responsibility for the environment is everyone's business. Sweden Car Transport AB is to promote long-term and positive environmental development through our business work to minimize environmental damage. As carriers, we can help to make good environmental decisions by integrating environmental issues into everyday business - it means we have to provide all employees with knowledge of the environmental issues relating to our products and services and encourage active participation in terms of measures to improve our environment.
At your service since 1979. Welcome to contact us for further information or to make an inquiry on a transport.
Who we are?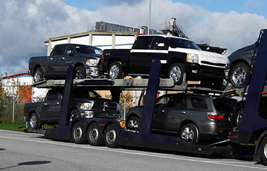 Sweden Car Transport AB is not the largest fleet operator in Sweden. We are a small but serious trucking company who wants to make all our customers happy with the services we can offer at reasonable prices. Currently we have 6 own units and 12 units from our partners. Also we have 2 tow trucks that are working local. If you need help with registration of your import vehicle our full service workshop gladly will assist. We also carry out freight forwarding within Sweden Car Transport AB. Which makes us through our collaboration partners currently one of the haulage companies that have the most units in the automotive transport from and to Sweden. We also have 1,000 square meters of indoor secure parking at our terminal in Svalöv Sweden.